By definition, a compact home is a modern house design which consists of a hall, bedroom, study, washrooms and balcony. The size is around 500 sq ft to 800 sq feet, which is a decent size for a small family. Compact living is considered to be adequate and smart living because everything is built with high facilities. It is a very common place to live in where property prices tend to be on the higher side. Sprucing up compact homes shouldn't break the bank and clutter up with too much stuff. Compact/ Cozy homes are always thoughtful and the overall space is created with so much love and understanding of home interior design. In compact houses minimalism is the key always. 
Selling high luxury-based houses is also difficult which is why concept houses with modern house design is becoming more and more popular.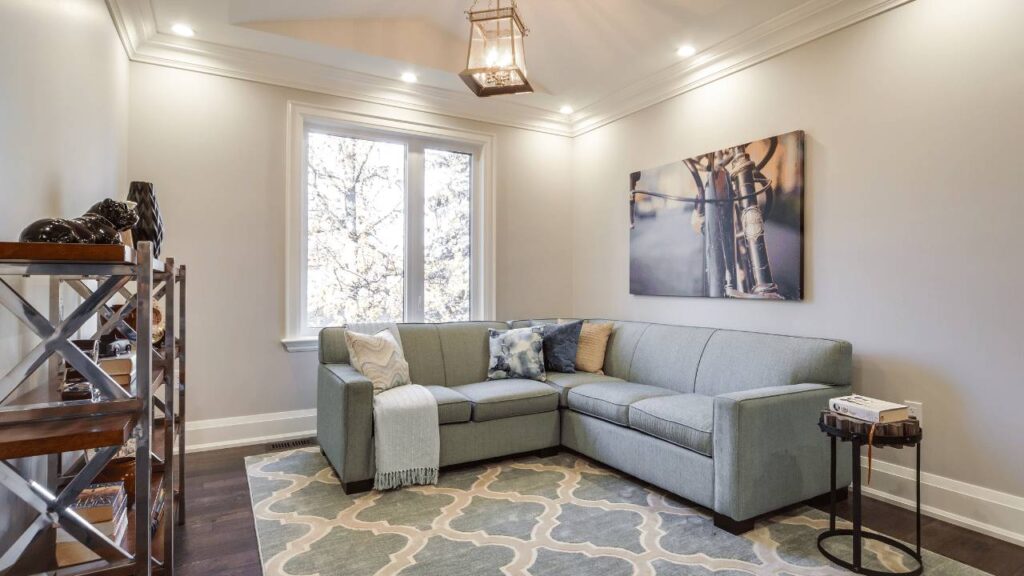 There are few tips and tricks which you can use in your compact modern house design to make it feel more comfortable: –
Multipurpose furniture in home interior design- This is ideal for compact houses and modern house design. Using furniture which can be folded back and can act as both a storage place as well as a table will make a lot of difference because you won't require additional furniture. Buying furniture which can create a contrast amongst the space and color of the house. Mixing and matching can make the space look different and eye-catching pieces would be the first thing guests get to take a look at. 
Storage cabinets and compartments- Every house whether small or big needs a proper storage system, e.g.: additional space bellow cupboards can be converted into drawers, or additional compartments below the bed to be kept for extra clothes and other things. 
Glass- Glass is ideal for a minimalistic design, glass helps to make the house much bigger by just positioning it in the right direction. Glass can also be inexpensive and needs to be used in the correct form, which doesn't mean that we add glass to every element of the space. 
Colour in modern house design- Lighter shades and pastels bring out vibrancy in the overall space, in a compact house the entire space will be visible in one glance. Choosing the colour scheme for the home interior design is very fundamental so that it brings out the best in the space. Warmer colours make the space look bigger as compared to a cooler tone of shade. Whites for walls is the way to go. 
Lighting for the home- Mood lighting, direct lighting and backlit lamps will help to create the illusion of larger space and such lights help to uplift the mood and just makes the space livelier and more vibrant. Always allow natural light to enter the space. This livens and brightens up the entire space. 
Space- Use the vertical space as much as possible, use shelves from the roof to the floor. You should opt for beds with side tables, if there is no side tables opt for something with overhead storage. 
Personal Memorabilia as a part of modern interior design-Use like quirky posters, photo frames or paintings on the wall to bring out your personal touch and this will create a focal point to focus on rather than the lack of space.  Personal memorabilia can also include antique pieces, vintage items, a small family heirloom which can be used as a center piece of the house. It adds essence and charm to the overall space and makes it brighter. Such pieces can be acquired from antique shops, second hand shops and online thrift stores. 
Wood in homes: Use of wood in a space instantly livens up the space. Using wood furniture like a coffee table, wooden shelving or accents like bowls, even hardwood flooring can help with the overall design of the space. 
Textures- Rugs, mats & carpets can be used as flooring elements to add texture to the overall space. Textures can also be found with art, clothes, curtains. Textures can make even a small space look fancier and elegant. 
Organic elements- Organic elements help keep the space intact, use of small succulents, small house can add the green elements of the house. Easy care plants can be found anywhere and are easy to take care of without the fear of the plants drying up. 
Photo frames: A quick tip would be to hang photo frames at an eyelevel. This can help guests see the special moments of your life. This element adds hospitable and comforting vibes to the living space. 
Even if the space is big or small it depends on us and how we want to personalize the space. You can utilize the space in the best way if you plan everything appropriately. A compact space doesn't mean you should compromise on the modern house design you require. Utility is fundamental when it comes to compact living, and will be more popular in the future. Spaces will become more and more compact in the future, by adapting to this you can easily create a space which is bold, and comfortable at the same time.